Northern Ireland's art goes online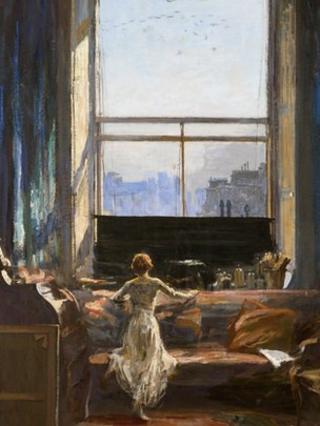 Art lovers will now be able to see a host of oil paintings, normally only on display at museums, on a BBC website.
Your Paintingsis a project to create a complete online catalogue of every oil painting in the national collection and 1,600 from National Museums Northern Ireland have now been added.
Paintings by artists such as Bacon, Gainsborough, Gertler, Lavery, Lessore, Lorenzo Lippi, Lowry and Turner are among the paintings.
This rich and varied collection is the first Irish collection to join the site and will be joined by 1,200 other paintings from over 30 collections across Northern Ireland later this year.
The BBC is working with the Public Catalogue Foundation (PCF) to create the collection which provides a unique insight into the history and artistic heritage of Northern Ireland.
To help them identify and catalogue what can be seen in each painting, the public is being invited to "tag" the nation's paintings.
"No country has ever embarked on such a monumental project to showcase its entire painting collection online," said Andrew Ellis, director of the PCF.
"Working with collections and individuals all over the UK, this project will reveal to the world the UK's extraordinary holding of oil paintings."
Kim Mawhinney said National Museums Northern Ireland was "delighted to be involved in this innovative project".
"It means that people all over the world can enjoy a flavour of our fantastic collections including the work of Belfast-born Sir John Lavery and internationally renowned artist Francis Bacon, considered by many the greatest British artist of the twentieth century," she said.
"We hope the public will be inspired by these works and will come to see more of the wonderful collections in our museums."