Pair appeal convictions for Thomas Devlin murder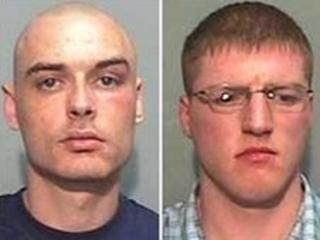 One of the men jailed for murdering schoolboy Thomas Devlin was unaware a knife attack was to be carried out, the Court of Appeal has heard.
Lawyers for Nigel Brown claimed he should not have been found guilty as a secondary party because he knew nothing of the planned stabbing.
Brown, 28, and Gary Taylor, 25, are both seeking to overturn their convictions for murder.
Fifteen-year-old Thomas was stabbed to death in north Belfast in August 2005.
Taylor, of Mountcollyer Avenue, Belfast, was ordered to serve a minimum 30 years in prison for carrying out the killing.
Brown, from Whitewell Road in the city, was jailed for at least 22 years for his part in the murder.
They were also convicted of the attempted murder of Thomas's friend, Jonathan McKee, who was stabbed in the same attack.
The victims had been walking back with a third teenager from a trip to buy sweets and drinks close to Thomas's north Belfast home when the killers struck.
Knife
Opening the appeal by Brown, Arthur Harvey QC identified a number of "curiosities" in his client's alleged behaviour on the night of the stabbing.
These included Brown's decisions to halt his assault on Jonathan McKee before any serious injuries were inflicted, and to return to the same area after the attack.
Mr Harvey said: "This isn't a case of minor injuries being fortuitously sustained due to a lack of power, or because of the intervention of an outside force. He desisted."
Brown had been found guilty of acting as part of an alleged team with Taylor.
But Mr Harvey contended that his criminal liability in a secondary role was never established beyond reasonable doubt.
"What wasn't proved was the defendant being involved in an incident in which he contemplated or foresaw or realised a knife would be used in an attack on anyone," he said.
"Therefore he could not, I submit, be found guilty on that basis."
The knife used to stab Thomas at least nine times, which Taylor allegedly took from Brown's flat without his knowledge, has never been recovered.
Mr Harvey also argued that the trial judge did not properly put the defence case to the jury.
A confession by Brown that he was involved in the initial stages of the attack was relayed by his stepfather David Crozier to his police officer brother Norman Crozier, the court heard.
But according to Mr Harvey the evidence of Constable Crozier was wrongly handled.
'Mooching about'
He also disputed the Crown case that Brown cynically pleaded guilty to attempting to cause grievous bodily harm to Jonathan McKee in an attempt to thwart any potential murder charge against him.
The barrister stressed how his client went back to the area of the attack, even though he must have known he risked being arrested.
Rather than "mooching about", as the prosecution asserted, Brown could alternatively have been genuinely concerned, the court heard.
Mr Harvey said: "What had happened had startled him to such a degree that the behaviour in returning to the scene is difficult to construe in the way that just makes it wicked."
Questioning the prosecution's interpretation, he submitted: "You have just been involved in a murderous attack in which a young man has (died), and you just want to return to see the fruits of your labour?"
Lord Chief Justice Sir Declan Morgan and Lord Justices Higgins and Girvan, who are hearing the appeal, were told Brown and Taylor's behaviour after the attack had been "radically different".
Separated by five prison guards in the dock, both men sat impassively in the dock throughout the hearing.
Thomas's parents, Penny Holloway and Jim Devlin, listened from the public gallery as the brutal events surrounding his murder were set out.
He was caught and stabbed to death as he tried to escape over school gates on the Somerton Road.
According to Mr Harvey the type of injuries "would seem to indicate that at least at one stage Thomas Devlin was facing the person who inflicted these wounds upon him".
The appeal hearing continues.