Damaen Kelly's estranged wife tells court of boxer's assault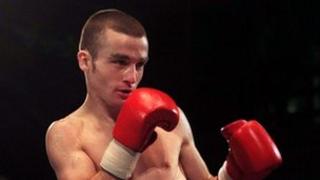 The wife of former boxer Damaen Kelly has told Belfast Crown Court that she thought he was going to kill her.
Ms Margaret Doherty, who has dropped her married name, told the court he attacked her while accusing her of cheating on him.
The 39-year-old former IBO and WBF flyweight world champion is on trial accused of wounding her with intent to cause her grievous bodily harm.
He denies the charge but has admitted assaulting his Ms Doherty.
Mr Kelly, from Monagh Road, Belfast, has also admitted smashing her mobile phone in the Black's Road home they had shared in south Belfast in April 2009.
Ms Doherty, who admitted receiving an "inappropriate text message" from one of her lecturers, claimed that as Mr Kelly throttled her for a second time, after banging her head off the bedroom wall, "like a football", she thought she was "going to die".
Ms Doherty told prosecution lawyer David McClean: "At this stage I felt myself getting very weak. I couldn't breathe at all."
"My body was starting to tingle," she added.
Ms Doherty also told trial Judge Gordon Kerr QC, that after learning she had phoned for the police, Mr Kelly threatened to kill himself, and went to the kitchen where he got a knife and cut his arms and stomach.
Affair
Ms Doherty, who took nine months before agreeing to make a statement to police, said that throughout this attack their youngest son was kneeling on the bed screaming.
She claimed that the previous evening, 9 April 2009, they had argued during which she had asked for a divorce, although she insisted they had talked on and off for "a couple of years" about her leaving the marriage.
Ms Doherty claimed Mr Kelly, screaming and cursing, accused her "of having an affair", and initially attacked her in their bedroom as she replied to a text message from a lecturer.
He had jumped on the bed and managed to wrestle the phone from her as she attempted to hide it behind her back.
She added while he locked himself in the garage, she took the opportunity to take their three eldest children to her mother's to stay.
On returning home she took their youngest son to bed with her, but said that Mr Kelly kept coming into the room, calling her names, and "banging" her phone off her face and head.
The following morning she was awakened by Mr Kelly flinging open the bedroom door and jumping on the bed, before grabbing her and throwing her up against the wall where she cut her head above her right eye.
Later, he allegedly grabbed her again by the arms, and hit her head off "the other side of the wall".
She said that he then started to strangle her for the first time, before hitting her in the face and throwing her up against the wardrobe and wall again.
Turbulent
Ms Doherty claimed that while she initially agreed to later speak to police, and to have her injuries photographed, she "unfortunately" did not go to police at that stage.
Later under cross-examination by defence QC Philip Magee, Ms Doherty claimed that their married lives together were not really happy, and described their relationship before that as "turbulent...very much on and off".
She also accepted that Mr Kelly might have thought she was having an affair as she was receiving text messages.
However, she denied either having an affair, or even doing anything wrong, and while the texting "might inflame someone", she said that was no excuse for what had happened to her.
She also accepted that she had received "inappropriate texts" from a college lecturer "out of the blue", and that she had been "shocked" by it, although she had not reported him to college authorities.
Ms Doherty denied sending him similar messages.
She also accepted that when she eventually made her statement to police in January 2010, she had not told them about telling her husband she "wanted to end the marriage".
Ms Doherty said she had not gone to police earlier because she was "not ready", although it was "probable" that police had continually sought a statement from her.
However, she refuted any suggestion she had been "pumped up" into giving evidence.
"Most certainly not," said Ms Doherty.
The trial continues.