NI business water bills to rise from April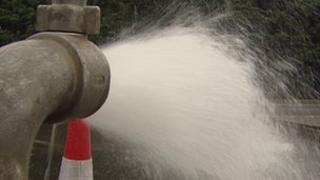 Water bills for businesses in Northern Ireland are to rise from 1 April.
The increases are significantly above the rate of inflation but NI Water said they were within the limit set by the utility regulator.
Metered customers will see their combined water and sewerage bills increase by 6.9%. Those without a meter will see a rise of 8.4%.
Ronan Larkin of NI Water said the rises were "unavoidable."
He said this was due to inflation and the "substantial cost" of improvements to the water and sewerage infrastructure.
"For customers, the improvements in the infrastructure have helped to deliver the best ever drinking water quality and have helped to reduce our impact on the environment through improved sewage treatment," he said.
"However, we are very conscious that these are difficult economic times for our customers. We have, therefore, gained agreement to limit any tariff increases as much as possible."
Leaflets will be mailed to approximately 75,000 non-domestic customers to notify them of the pricing changes and how they will be applied.
The price rise means a small to medium size shop or hairdressing salon will see an increase of up to 50p per week.
An average sized farm will see an increase of up to 20p per week, while a medium to large factory or office will see an increase of up to £4 per week.
NI Water is required to annually review the charges levied for water and sewerage charges and agree them with the Utility Regulator.
The new charges follow the Utility Regulator's decision on the prices NI Water should charge customers between 2010-13.
For further information, customers can contact NI Water's Billing Enquiries team on 0845 877 0030 or online atwww.niwater.com