Jim Stynes: Thousands pay respect at Melbourne funeral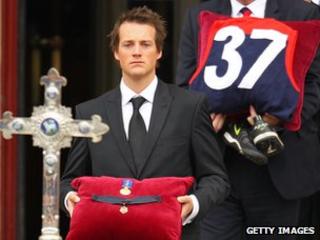 Melbourne came to a stand still on Tuesday as Irish sporting icon Jim Stynes was laid to rest after losing a three-year battle with cancer.
Mr Stynes travelled to Australia as a promising gaelic footballer at 18-years-old, and became one of the most decorated AFL players of all time.
His playing career spanned 12-years from 1987 to 1998 with the Melbourne Football Club, playing 264 matches.
He was awarded the Order of Australia for his charity and sporting work.
Following his retirement from AFL he focused on charity work. He co-founded the Reach Foundation with actor Peter Currie, a charity which helped young people in Australia.
His other achievements included being named Victorian of the year 2001 and 2003, being inducted into the AFL Hall of fame in 2003, and being named in Melbourne's Team of the Century 2000.
Friend and former Melbourne teammate Gary Lyons said: "There never has been anyone like Jim Styles and there never will be."
"Consistent, reliable, dependable, trustworthy, honest, strong, loyal, durable, courageous, caring and resilient...they are wonderful qualities to possess in a footballer. They're even more significant qualities to possess as a man."