Dementia care facility in Enniskillen 'half empty'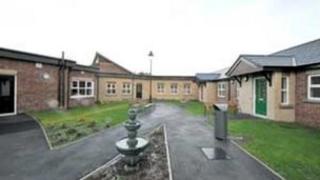 A purpose-built facility in County Fermanagh for people with dementia is currently half empty.
Gnangara in Enniskillen opened in January 2011. It offers 15 supported-living cottages, but only two of those are occupied. It also has 15 rooms but two are empty.
The situation was revealed by the investigative news websitethe detail.
Twenty thousand people in NI are living with dementia and that figure is expected to rise.
Fiona McAnespie of Fold Housing Association said they needed to look again at their marketing scheme.
Gnangara operates as a three-way partnership between the Western Health and Social Care Trust, Fold Housing and the Northern Ireland Housing Executive.
Ms McAnespie said it was a fantastic scheme which had been specially commissioned.
"We did believe there was a need in the area," she said.
"We have marketed the scheme throughout Enniskillen and right across Northern Ireland, working very closely with the Western Trust and NIHE to try to secure tenancies for our bungalows.
"Tenants and families are very happy with the quality and standard of care we provide there."
But she added: "We have been reaching out wider, we are looking again at our marketing strategy."
It costs £502.50 per week to live in one of the cottages, which are designed to promote independent living. The bungalows cater for single people and couples.
'Exceptional cases'
Sinn Fein assembly member Phil Flanagan said it was "disappointing" that full use was not being made of the facility.
He said 21 referrals had been made since it opened.
"People are more inclined to live independently in their own community. This facility offers this. This is a world-class facility right in heart of the community," he said.
"It can meet people's individual needs and demands. It might well be that there are people who need this sort of service, who don't know it exists."
In a statement, the Northern Ireland Housing Executive said: "This is a matter largely for the trust and fold to resolve. Referrals are normally made from the trust and only in exceptional cases from the Housing Executive."
The Western Trust said: "The uptake of the units is down to individual choice of clients, families and carers, this influences referral rates. The trust continues to promote the scheme with all partner organisations."