New Titanic title for Belfast train station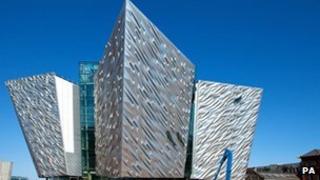 A railway halt in east Belfast has been officially renamed to mark the centenary of the sinking of the Titanic.
Bridge End station, which has undergone refurbishment, will now be known as Titanic Quarter station.
The move comes days before the opening of the flagship Titanic Signature building.
The station first opened in 1977 to serve Harland and Wolff shipyard, but later fell into disrepair.
Catherine Mason of Translink said: "There's been all the growth and development in terms of everything that's going on in the Titanic Quarter.
"It became obvious to make sure people knew that there was a train station close by."
Training opportunities
Other improvements at the halt include a longer platform, disabled access and better lighting.
East Belfast MLA Sammy Douglas said residents in the area were delighted to see the improvements.
"The most important point for people living round this area is that they can get access to Titanic Quarter but more importantly access to the jobs and the training opportunities."
Thousands of people are expected in Belfast over the coming months to mark the centenary of the sinking of the Titanic.
The ship sank on 15 April 1912, with the loss of 1,517 lives, after hitting an iceberg in the Atlantic Ocean.