Two paramedics attacked in less than week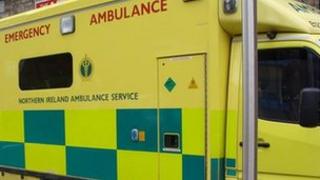 An ambulance crew member has been assaulted as she tried to treat a man in Downpatrick.
The woman was verbally abused and pushed aside by a patient who had called for help on Tuesday night, before refusing treatment.
On Saturday, a paramedic was attacked by a patient in Dunmurry.
The Northern Ireland Ambulance Service has expressed concern at the two attacks on its staff.
The paramedic who was assaulted in the Poleglass estate at the weekend received treatment for a head wound at the Royal Victoria Hospital.
The ambulance crew were treating a man who, along with another man, became verbally aggressive and refused further treatment.
The patient then struck the paramedic, knocking his glasses off and stunning him.
The patient was eventually taken to hospital by the PSNI and the paramedic by a second ambulance.
A spokesperson for the ambulance service said: "There is no excuse for such behaviour and that, where possible, those responsible for such assaults should face the full rigour of the law as a result of their actions to deter them and others from such actions."