Sean Quinn 'backdated' eastern Europe property loans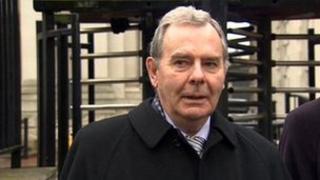 It has been claimed loan transfers of 130m euros of property belonging to Sean Quinn's family were backdated in an attempt to put them out of reach of the former Anglo Irish Bank.
That claim was made at a High Court hearing into the ownership of the Quinn family's east European business empire.
The Irish Bank Resolution Corporation (IBRC) disputes when the transfer of a Russian tower could have taken place.
IBRC is trying to recover more than 2bn euros from the troubled tycoon.
A judge was told overwhelming and undisputed evidence exists that the assignment over the Kutuzoff Tower in Moscow could not have taken place before July 2011 - by which stage the bankrupt ex-billionaire had lost control of his empire.
Senior counsel for the IBRC insisted there was no authority for the transaction, allegedly carried out three months earlier.
It is seeking an order setting aside the debt transfer made by the Belize-based Galfis Overseas Ltd.
Gabriel Moss QC, for the bank as controllers of Quinn Finance and Quinn Hotels Praha AS, said: "There is absolutely incontrovertible evidence, which has not been contradicted in this case in any shape or form, that the assignment could not have been executed by Galfis prior to July 20."
Disputed transaction
He pointed out that Mr Quinn lost the power to sign off on such deals when the bank moved on his businesses on 14 April last year.
"That is an open and shut case of backdating... and the circumstances of the document being void," Mr Moss contended.
"Here we don't have to rely on inference. There is documentary evidence showing that 4 April is a bogus date."
He added: "The one thing that is not in dispute is the purpose of this assignment was to take the property out of the reach of the bank."
During the hearing, a complex web of alleged business transactions was set out.
Mr Moss set out how Galfis was "taken off the shelf" last July for the purpose of the disputed transaction.
Reference was made to the appointment of a Panamanian director, along with Dubai-based intermediaries.
A Ukrainian construction worker with no known business experience was also said to be involved.
With Galfis now in receivership, the IBRC application was not contested.
Proceedings were brought in Northern Ireland because Demesne Investments Ltd, who entered into a prior loan agreement with Galfis, is a County Fermanagh-registered firm.
Mr Justice McCloskey requested some amendments to the legal papers submitted on behalf of the bank before he rules on the application.
His verdict is due to be delivered next week.