Boxer Damaen Kelly convicted of wounding wife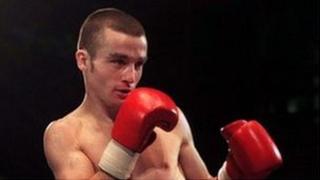 Former world boxing champion Damaen Kelly has been convicted of wounding his wife just before their separation in April 2009.
However, Kelly was cleared of wounding her with intent to cause her grievous bodily harm.
Judge Gordon Kerr QC adjourned sentencing until next month.
Kelly, 39, was freed on continuing bail at Belfast Crown Court, but the judge said this was no indication as to what sentence he would receive.
Kelly, from Monagh Road, Belfast, will also be sentenced for assaulting his estranged wife and smashing her mobile phone in the Black's Road home they had shared in south Belfast on 9 April 2009.
He had pleaded guilty to those charges before his trial.
Gash
Ms Kelly, who now goes by the name of Margaret Doherty, who also received a cut above her right eye, had claimed that she thought she was going to die as Kelly attacked her while accusing her of cheating on him with one of her college lecturers.
Ms Doherty, who admitted receiving an "inappropriate text message" from a lecturer, claimed the three-quarter-inch gash above her eye was caused as her head was banged off the bedroom wall "like a football", in front of their screaming youngest son.
Ms Doherty, who also admitted telling Kelly she wanted to end their marriage, claimed Kelly had twice tried to throttle her and said at one stage: "I felt myself getting very weak ... I couldn't breath at all .... my body was starting to tingle".
In defence Kelly repeatedly claimed he was so drunk on beer and wine he would not remember hitting his wife's head off a wall or strangling her.
He said however the fact that he cut and stabbed himself in the stomach afterwards was an indicator "of the state I was in".
He said that at some stage his wife received a text message and although he asked to see her phone, she refused which lead to "a bit of a scuffle".
"I don't deny doing it but I just can't remember because I had been drinking at that time.
"Something had happened on the night but I had no intention to seriously injure Mags and she knows that."