Leveson Inquiry: Matt Baggott praises Northern Ireland media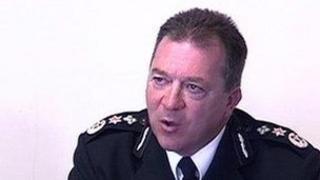 The Chief Constable Matt Baggott has praised the Northern Irish media in their approach to reporting and peace-building.
Speaking to the Leveson Inquiry, he also contrasted the local media with the national media.
Mr Baggott suggested the local media were more interested in the consequences of their reporting.
The Leveson Inquiry is currently examining the press's relationship with the police.
Mr Baggott said: "The local media in Northern Ireland have an absolute commitment to the future of the province.
"They have a stake in it. And they are part of the confidence-building and they have an ownership of the issues."
Mr Baggott said the local media also understood the consequences of the way something was reported, and the consequences of creating a sound-bite without developing the context.
"I think that's the difference," he said.
"The national media will come in and will report on the story for one day...sometimes for the headline, sometimes because it is a matter of national interest but go away.
"The local media in Northern Ireland have to live with the consequences of their reporting and they are very much bought into the future of peace-building."
Mr Baggott said relations with the local media were professional and amicable.
Parasitic
The head of corporate communications at the PSNI, Liz Young, said that the national media were quite demanding in terms of access when a colleague was murdered and were not as aware of the sensitivities and complexities of situation in Northern Ireland.
She said the national media require "much more handling" when giving background briefings.
Earlier on Wednesday, the ACPO president and former PSNI Chief Constable Sir Hugh Orde told the inquiry that the relationship with the media was "crucial" for police.
"We need to be careful not to become so rigid and so bound by rules that we actually spoil what is a crucial relationship with the media and that officers don't feel too fettered in having sensible, professional conversations across all ranks."
Referring to his time in Northern Ireland, Sir Hugh praised Northern Ireland-based reporters for providing him with a wealth of knowledge.
He described the relationship as "parasitic", saying he benefited "far more from their information than anything I had to say to them."
Watch the Leveson Inquiry here.