Minister Arlene Foster moves to quell NI petrol panic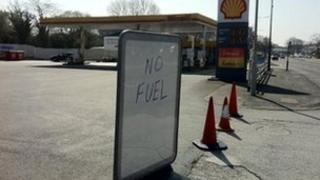 A NI minister has moved to quell fears of a petrol shortage because of a fuel tanker drivers' strike.
As the UK government asked people to "top up" in case tanker drivers strike, Arlene Foster moved to end any panic.
"We understand that of the 15 companies that deliver fuel around Northern Ireland, only one company's drivers have voted for a strike," she said.
"At this time, we believe that the strike will not have a significant impact in Northern Ireland."
Earlier on Wednesday, Prime Minister David Cameron said motorists need not queue but should top up their tanks.
Unite union drivers, who supply 90% of UK forecourts, have voted to strike.
It is understood that the one company which voted for strike action in NI is Wincanton. It has only four drivers operating in Northern Ireland.
DHL, which has 22 drivers in NI, voted against a strike.