Newspaper review: NI and Republic of Ireland stories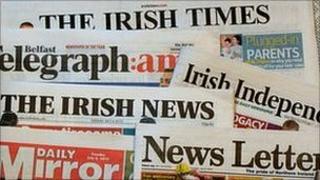 Journalist Keith Baker takes a look at the morning papers.
If you are worrying about the petrol situation, theNews Lettersays you should not.
There is a lot of coverage about panic-buying, but the News letter says motorists here should not have a problem.
As far as any UK-wide action by the Unite union is concerned, it says only four drivers in Northern Ireland are likely to be involved.
Queues at the pumps across the water, of course.
TheIndependentsays thousands of motorists took "official advice" yesterday and began stockpiling.
TheDaily Telegraphheadline: "Pumps go dry as ministers provoke a panic."
TheDaily Mailhas the line: "Pasties, petrol and the politics of panic."
It says there were elements of "high farce" on Wednesday.
As many of the papers report, David Cameron tried to smooth out the row that has been rumbling since the Budget about VAT on hot food sold by shops and supermarkets.
He said he had bought a pasty from an outlet at Leeds station.
But theMirrorsays his bid to portray himself as a pasty-munching man of the people backfired when it was revealed that the shop in question closed five years ago.
So this gives rise to lots of headlines about porky pies and political hot potatoes.
Glam expense
A couple of contrasting local front pages - How we are losing money and how it is being spent.
TheBelfast Telegraphsays many of us are going to be about £600 worse off this year. This is the conclusion of the paper's latest cost of living survey.
It says average earners here are facing further financial misery. It says with changes in income tax they should be £200 a year better off but that is not the case when you take the rising cost of living into account.
TheIrish Newsfront page has a picture of Christine Bleakley, Arlene Foster and Andrea Catherwood all glammed up.
The headline: "Glitzy tourism launch cost £100,000 an hour."
This was an event in London in January which was compered by Eamonn Holmes, with Van Morrison doing a turn.
The Irish News says that, lasting three hours, it cost Tourism Ireland a staggering £300,000 to stage.
The tourism agency says it was to create awareness of the campaign - ni2012, Your Time, Our Place.
A leader in the Irish News has the headline: "Your cash, our extravagance."
It says tourism needs to be promoted as imaginatively as possible but serious questions need to be asked about the value for money involved in this launch.
Our MLAs have been awarded an 11% and they could be getting free ipads as well.
TheIrish Newssays Stormont authorities have just spent £7,000 buying 13 iPads as an experiment to see how use of paper can be reduced.
If it is successful all 108 politicians could get one.
The paper points out that they are already entitled to two desktop computers and two laptops.
There are differing views about the new move.
Barry McElduff is not convinced but Basil McCrea is in favour. "It's about functionality," he says.
Elsewhere,Independentreports on words and themes which are being banned from exams in New York.
Halloween is out because it is too pagan. You can not mention birthdays in case that offends Jehovah's Witnesses.
No mention of dinosaurs, either. Creationists might be offended. And you can not mention homes with swimming pools in case it upsets families who do not have one.
Finally a letter in theGuardianrefers to a picture that appeared in the sports pages yesterday along with a cricket report.
According to the caption, it showed Jonathan Trott "prostate" after being stumped.
The writer says that if this is a new medical procedure, it looks jolly uncomfortable.