Two ill in Antrim chemical firm alert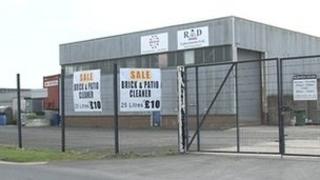 Two people are seriously ill in Italy after being given chemicals from the Antrim company, Mistral Laboratory Chemicals.
On Thursday, the Food Standards Agency said a woman being tested for a food intolerance had died in an Italian clinic after being given what was thought to have been an artificial sweetener.
It turned out to be a highly toxic meat preservative. A court has now prevented the firm from supplying food-related chemicals.
At Larne Magistrates' Court on Friday environmental health officers were granted an emergency prohibition notice.
The Food Standards Agency has said that anyone who has bought food production chemicals from the firm should not use them.
Maria Jennings, of the Food Standards Agency, said the chemical had been traced back to Mistral Laboratory Chemicals, also known as R and D Laboratories.
Police are also now involved in an investigation into product traceability at the Mistral Laboratory.
A spokesperson at R and D Laboratories said: "As a precautionary measure we are advising all our customers not to use any chemicals purchased under our brand name Mistral for the purposes of food production.
"The company is co-operating fully with the Food Standards Agency investigation.
"All food product sales have ceased until the company and the Foods Standards Agency is completely satisfied that there is no risk to public health."
R and D Laboratories Ltd employs 17 staff at its plant in Antrim and has been operating since 1995.
It produces and sells a range of chemicals for the service sector.