Ex-Alliance Party deputy leader Addie Morrow dies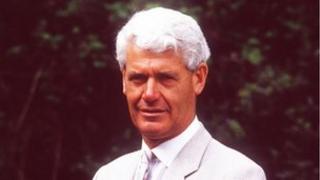 The former deputy leader of the Alliance Party, Addie Morrow, has died.
Mr Morrow served as a councillor on Castlereagh Council and in the 1982 Northern Ireland Assembly.
Alliance Party leader David Ford paid tribute: "His whole life was a practical demonstration of his commitment to peace and reconciliation.
"He was a huge inspiration to many of us now in the leadership of the party," he said.
"Addie was a founder member of Corrymeela and was active in Alliance from the very beginning of the party.
"On behalf of everyone in Alliance, I would like to express my sympathies to his wife Nancy, his children and grandchildren."
Deputy leader Naomi Long also expressed her condolences.
"I was very saddened to hear of Addie's passing," she said.
"He was a great servant to the people of east Belfast and worked tirelessly for the promotion of community relations."