MoD 'cash-for-contracts' trio receive suspended sentences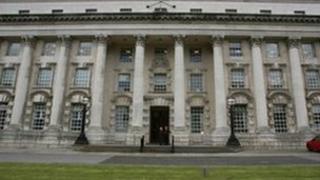 Three men, two senior civil servants and a security firm director, who admitted charges relating to a Ministry of Defence "cash-for-contracts" fraud all walked free from court on Friday.
James Daniel McGeown, 73, was handed a three year jail term, William Marks, 55, a two year sentence and John Symington, also 55, a nine month jail term, all suspended for two years.
The court heard Marks and Symington were paid £84,500.
It was in exchange for information.
This led to the tendering of contracts.
At the time of the offences between March 1998 and February 2004, McGeown was a director of security firm VIS Security Solutions Ltd, Marks was deputy senior contracts manager with the MoD and Symington worked as a quantity surveyor with the MoD.
The frauds relate to MoD contracts for electrical and security equipment and supply and installation of CCTV systems services amounting to almost £20m.
Having bribed Marks with £66,500 and Symington with £18,000, McGeown's firm was awarded contracts worth £16.2m.
Mr Justice McLaughlin told Belfast Crown Court it was important to note that neither Marks nor Symington had the power to actually award the contracts but rather they were won by McGeown's firm "on the basis that his price was the lowest and/or provided the most economically advantageous option".
During a previous court hearing, Marks pleaded guilty to 11 counts of corruption by an agent accepting a bribe and three further charges of converting the proceeds of criminal conduct on diverse dates between March 1998 and February 2004.
McGeown, from Cadogan Park in Belfast, pleaded guilty to 14 counts of corruption by offering bribes while Symington, from the Laurel Hill Road in Lisburn, admitted four charges of corruption by accepting a bribe as an agent.
Mr Justice McLaughlin said "the core of the allegations in short is that the defendant McGeown paid sums of money to Marks and Symington as inducements or rewards for them showing favour towards him" and his security firm.
Over the last 50 years McGeown ran what was described as a "substantial and successful electrical contracting business," working for various government agencies, including the MoD "from the earlier stages of the Troubles".
"It will be appreciated that this was regarded as potentially very dangerous as many people in similar circumstances were killed, injured, intimidated or terrorised in various ways for providing such services," said the judge.
He revealed that McGeown himself was shot and wounded by terrorists in 1974, but despite that, "continued to carry out this work for the MoD and by dint thereof to serve the community until these offences came to light in 2002-3".
The work carried out by McGeown's firm including the installation of electrical plant and equipment, including "vital CCTV systems to help secure army bases and to keep them functioning".
In assessing the culpability of each of the defendants, the judge pointed out that none of the money paid to Marks or Symington was claimed as business expenses by McGeown so "all personal and corporate taxes were paid" and that all of the work and contracts awarded "was carried out to the requisite standard".
"The 'benefit' achieved by the payments made by McGeown to the MoD employees seems to have been for the purpose of finding out who the other select tenderers were," the judge added.