Francis McNally jailed for 11 years for pipe bomb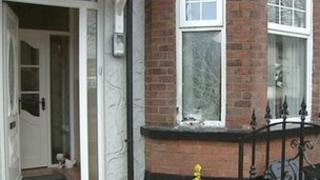 A 24-year-old loyalist who left a pipe bomb at the home of a cross-community worker in north Belfast has been jailed for 11 years.
The judge told Francis Paul McNally of Glenvarna Drive in Newtownabbey his actions were the exact opposite of everything Mary Kelly had worked for.
McNally was also ordered to serve an extra six years on licence when eventually released.
On 21 June 2010, he left a pipe bomb on Ms Kelly's window sill.
The bomb, packed with broken Stanley knife blades, firework composition and pieces of a broken mirror, partially exploded.
It woke the occupant and when she investigated, she found there was a fire at the front of her house with the flames driving her back inside.
The Recorder of Belfast, Judge Tom Burgess, said McNally's actions were "the exact opposite to everything" that she had done and strived for.
"While this defendant did not carry out this attack for a terrorist cause, nevertheless it had as its intent, an equally sinister objective based on sectarianism," the judge said.
He praised Ms Kelly's bravery and resilience, describing her as "a lady of the highest principles with the drive and determination to rid our society of those malign influences which have devastate so many lives".
Pride of Britain
The court heard that her home had been the subject of a previous attack but despite that, she had continued in her cross-community work.
Ms Kelly received a Pride of Britain Award from the Daily Mirror in 2010 for this work.
It was as a result of the previous attack, which McNally was not associated with, that CCTV had been installed.
It was from this footage that McNally was identified and arrested.
During a search of his home, police uncovered paramilitary flags and other loyalist military paraphernalia.
The court heard that although not charged with membership of any illegal organisation, McNally "holds strong affiliations" and sympathies to such organisations.
Judge Burgess said it was clear from the reports, "that McNally was aggrieved at Ms Kelly's involvement in, and devotion to, cross-community work".
He added that a forensic examination of the "amateurish" half-exploded homemade bomb showed its contents, adding "the consequences would have been life threatening" if anyone had been close to it exploding.
He said that by attacking Ms Kelly's home in this way, McNally had shown himself to be "only too willing to resort to violence".
He further revealed that McNally has 50 previous criminal convictions.
Judge Burgess said these offences included aggravated burglary in May 2006, causing actual bodily harm in May 2010 just a month before the bombing attack, possessing an air gun and a knife in public in January 2010 and riot just 12 days before he attacked Ms Kelly's home.
Judge Burgess said that having concluded McNally posed a "significant risk of causing serious harm to members of the public" he would be passing an extended sentence as as result of which, it would be up to the Parole Commissioners when to release him and under what supervised licence conditions.