Large gorse fire on Slieve Donard in Mournes put out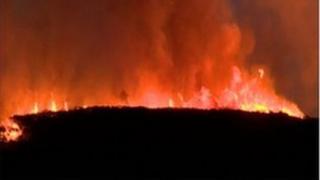 A large gorse fire on Northern Ireland's highest mountain has now been put out.
The fire burned on the upper part of Slieve Donard, above the Bloody Bridge outside Newcastle, for most of Friday night.
It did not endanger any life or property.
Firefighters tackled two large gorse fires on Wednesday at Camlough Mountain and at Mallaboy Lane, Dunloy, County Antrim.
David Thompson, the National Trust's coast and countryside manager for the area, visited Slieve Donard on Friday night.
He said: "The vegetation, at any time of the year, if it's burnt it's burnt and it's destroyed and not seriously (coming) back.
"The worry is always that the fire will burn into the peat, the sod and destroy roots and the seed bank which is the valuable and necessary way of restoring these mountains naturally."