'Tesco tax' comes into effect in Northern Ireland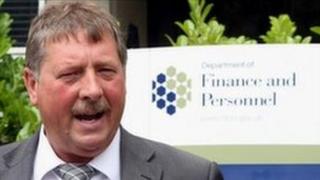 A controversial levy on large stores has come into force in Northern Ireland.
The scheme - known as the "Tesco tax" - sees a re-evaluation of rates on commercial premises with a rateable value of more than £500,000.
The proceeds will be used by the government to reduce rates for smaller businesses.
It will affect 76 stores in Northern Ireland. It is thought it will cost big shops an average of £66,000 a year.
The Northern Ireland Retail Consortium, which represents large retailers, has said the levy is unfair and poses a risk to future investment.
Ikea has claimed Finance Minister Sammy Wilson could be putting hundreds of jobs at risk.
However, Mr Wilson has said the levy is a significant milestone which will help people struggling in the harsh economic climate.