Stolen car hits woman on M1 motorway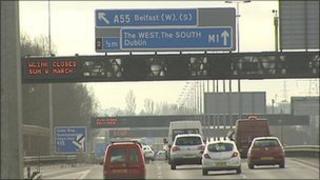 Two youths aged 15 and 17 have been arrested after a woman was injured in a hit-and-run incident on the M1 motorway.
She was involved in an argument with two people on the M1 westbound shortly before 11:00 BST on Saturday.
They then drove away and the woman was struck by the car as they did so. Her injuries are not life-threatening.
Police have said the blue Honda Civic car used in the hit-and-run was stolen during a burglary on the Belfast Road in Antrim early on Saturday.
The car was later recovered at Eia Street in north Belfast.
Detectives have appealed for witnesses.