Mike Nesbitt brings colour to 'grey party'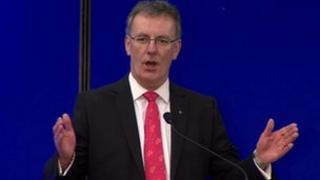 They used to be regarded as a party of grey men in grey suits.
But on Saturday the Ulster Unionists provided us with plenty of colour - a former TV presenter with his glamorous celebrity wife, and another leadership contender proudly holding the baby boy he'd just delivered himself three days previously.
It was never like this in Lord Craigavon's day.
If you had followed this leadership contest without prior knowledge of the candidates on the basis of their written statements alone, then you might have concluded it was a debate all about government and opposition.
Should the Ulster Unionists quit the Stormont coalition, as John McCallister proposed, or hang on to their ministry and continue to lobby for changes, as Mike Nesbitt preferred?
But Mike Nesbitt had the immediate advantage of instant name and face recognition.
From the start, he appeared to embody a smooth modern alternative to the halting media performances of the outgoing leader Tom Elliott.
He felt the need to hedge his bets on policy much more than John McCallister, aware that he needed to attract votes from right across the Ulster Unionist spectrum.
And attract them he did with a crushing 80% margin of victory.
Some described it as a victory of style over content.
Fear of opposition
That was true - but it may also have been that the 536 Ulster Unionists who voted for Mike Nesbitt were frightened of John McCallister's unambiguous desire to quit the coalition.
They may have worried that in opposition the party would suffer a quick death, rather than a slow decline.
The new leader promises "no quick fixes", and "no big idea beyond hard work".
He wants the Ulster Unionists to regain an MP and to retake the first minister's office "within two electoral cycles".
A lot of this sounds rather familiar - previous Ulster Unionist leaders have promised better organisation and called for better party discipline.
During the Trimble era, the party used to complain about those non-voting "garden centre" unionists who, if only they could be persuaded to put their geraniums down, would sweep the UUP back to power.
But when an election comes closer such non-voters are unlikely to change their ways just because the UUP canvassers appear better organised - the party still needs to develop distinct policies which can inspire new supporters.
The UUP will also have to work out how to persuade voters they are different from the DUP after sitting alongside their dominant opponent in the same mandatory coalition.
Maybe in time Mike Nesbitt can refresh the parts of unionism other leaders could not reach.
However he will have his work cut out - less than 670 Ulster Unionists participated in Saturday's vote, well down on the more than 930 who cast their votes for either Tom Elliott or Basil McCrea back in 2010.
Pledge of loyalty
The new leader wants his party to build a great future for children like Harry James McCallister, the baby whose unexpected arrival added a real touch of human interest to the last days of this campaign.
The vanquished contender, John McCallister, who had joked that he might have to retrain as a midwife after delivering Harry himself on Thursday morning, pledged loyalty to his new leader.
But he did get in one last quip.
Reflecting on the poison chalice the UUP leadership has been in recent years, Mr McCallister told the outgoing leader Tom Elliott not to bother wishing him bad luck as "Mike's the one in real trouble".