Owen Paterson calls for Northern Ireland enterprise zones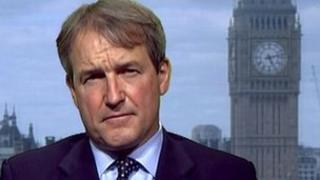 The secretary of state has urged the executive to follow other regions of the UK by setting up enterprise zones in Northern Ireland.
Companies receive rates rebates and tax breaks for setting up in these areas.
The executive is currently in talks with the Treasury on reducing corporation tax.
But speaking on the BBC's Sunday Politics, Owen Paterson said all options should be considered.
"We've seen there's been much more rapid progress in England, Scotland and Wales on enterprise zones and I think some of these ideas could apply to Northern Ireland and I think we should try to use every tool in the box.
"But it's very much a devolved responsibility as to whether to go ahead.
"This has been on offer since the budget last year."