Cars attacked with petrol bombs in Lisburn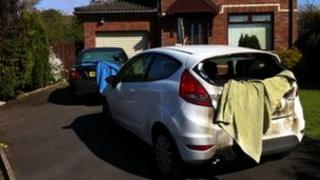 Two cars have been attacked with petrol bombs on the outskirts of Lisburn.
The parked vehicles were attacked shortly after 01:30 BST on Sunday, in the Barnfield Grange area of Derriaghy.
One of the cars had its back window smashed and fire damage was caused to the back of it.
A petrol bomb struck the back of the second vehicle. Police have appealed for witnesses to contact them.