Clean Neighbourhoods Act gives NI councils greater powers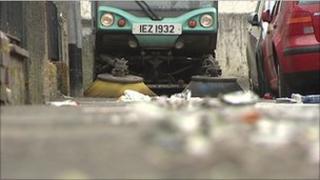 Councils in Northern Ireland now have tougher powers to deal with a wide range of offences, under the Clean Neighbourhoods Act which has come into force on Sunday.
More on-the-spot fines will replace prosecution in the courts.
Nuisance parking, graffiti and fly-posting could attract an immediate £80 penalty. Even light pollution comes under the control of councils.
The tougher legislation passed through the assembly last year.
Environment Minister Alex Attwood said: "The new laws are timely, given that the visual appearance of Northern Ireland will be in the spotlight during the coming months with the Titanic celebrations and the Irish Open golf championship.
"I am looking to councils, including Derry and Coleraine with coming events in their areas, to use these powers in a decisive way."
While some of the powers are new, others increase the potential of existing laws.
Posters
It has always been hard for councils to deal with fly-posting.
Unless they can catch people in the act, it often proved difficult to bring a prosecution.
The new law allows them to follow up those who benefit from the posters by simply tracking down the venue, product or people referred to on the poster. They will then be liable for fixed penalties.
Some of the existing legislation that is toughened up includes dog fouling. There is now a limit to the number of dogs that can be walked by an individual at any one time, and tougher action will be taken on those who fail to clean up after their dogs.
Parking
New powers will make it easier to "gate off" back entries and alleyways to reduce crime and anti-social behaviour.
Nuisance parking will be reduced by restricting the numbers of cars that can be kept on the road while on sale or being worked at. Councils will be able to remove abandoned cars immediately, rather than having to wait for lengthy periods to find the owners.
Supermarkets will also attract fines if their shopping trolleys are found dumped, especially in rivers or waterways. The same applies to litter from any business.
The new powers give councils the ability to demand that business and individuals clear litter from their land.
Fast-food outlets and others that create litter will be required to help clear up the mess they generate. Even those producing flyers and hand-outs will discover that their activities will come under tight council scrutiny and control.
Mr Attwood said thenew lawswere "an important addition to the toolkit of powers available to district councils to help them to deal more effectively with environmental crime".
"Councils asked for these additional powers and it is important that they use them to improve local environmental quality in their respective areas," he said.
"What I and DoE are about is making Northern Ireland a better place to live, work and invest, and this act will help do that."