Hope for remaining Northern Ireland GAME stores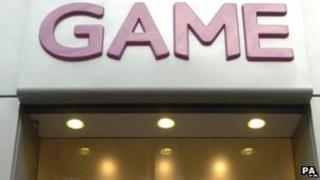 The five remaining GAME shops in Northern Ireland look set to transfer to new owners and continue to trade.
One hundred and ten job losses were announced across 13 stores in NI when the firm went into administration last week.
GAME'S total Northern Ireland workforce was 146.
Baker Acquisitions has released a statement saying it will buy all 333 UK stores that have remained open during the period of administration.
In a statement, OpCapita, which advises Baker Acquisitions, said: "We strongly believe there is a place on the high street for a video gaming specialist and GAME is the leading brand in a £2.8 billion market in the UK.
"We have assembled a strong team of experienced industry operators to implement the programme of operational change that is needed.
"There is a huge amount to do but we look forward to the challenge of restoring GAME's fortunes in partnership with its employees and suppliers."
Mike Jervis, administrator to GAME Group plc, added: "We are delighted to be able to secure this business sale and provide some much needed stability for customers, suppliers and employees alike in these uncertain times.
"This means that the GAME brand will not be another one of the retail names disappearing from the high street in the current difficult climate."