Royal Hospital trolley death family queries lack of post-mortem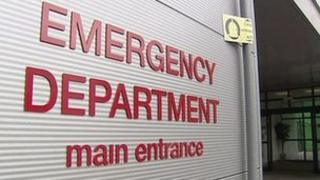 The family of a man who died on a hospital trolley while waiting to be treated have said they want to know why he did not receive a post-mortem exam.
The 77 year old, who suffered from motor neurone disease, had been waiting almost 24 hours in the Royal Victoria Hospital's A&E department.
He died on 6 March.
The family, who are due to meet the Belfast health trust later, told the BBC there are many unanswered questions.
The dead man's son said he wanted to reassure nurses they should not feel responsible for his father's death.
According to the family, despite assurances by hospital staff that a post-mortem test would be conducted, his father did not receive one.
"We were initially advised that a post mortem test would be conducted to establish the exact cause of death," he said.
"The decision was later reversed with the remains immediately being released to the family.
"The death certificate determines the primary cause of death as community acquired pneumonia. We want to know why they changed their minds."
His son said he failed to understand how a patient, particularly one with motor neurone disease, went unnoticed for such a long time.
"I wholly accept that my father was suffering from a very serious and unpredictable chronic condition. But why, after diagnosing him with a nasty type of pneumonia, was he not checked regularly and why was a bed not found for him sooner?" he asked
The BBC understands that the last written record of his condition was at about midnight. He was found by ambulance staff some five hours later.
While the Belfast Health Trust insists the man was not dead but "unresponsive", staff were heard to say that the man's hands were very cold. One nurse said: "Clearly this man is dead."
He was taken to the resuscitation area but pronounced dead a short time later.
The BBC understands that attempts were made to rewrite his hospital notes after they were found to show that he had not been checked at the required 30-minute intervals.
'Broken service'
According to the family, their father's death highlights how parts of the health service are broken.
"It's not good enough for the nurses to say while they did take my father's vitals, they simply didn't have the time to write up the chart. If that was the case then the system clearly isn't working," he said
The family have said they want to meet the nurses on duty that night
"No nurse should be feeling guilty about my father's death.
"I have nothing but praise for the nurses and especially for those who worked the night my father died. By all accounts they were rushed off their feet. It was described as chaotic.
"My problem isn't with the nurses - it's with the system and I want to meet them to tell them that," the man's son said.
The family is due to meet representatives of the Belfast Health Trust including the medical director, Dr Tony Stevens.
"We have many questions, including why a patient with motor neurone disease was left unchecked for several hours; why a non-emergency ambulance team was used to transport my father; was the A&E department understaffed that night? Has the PSNI been contacted about the incident and did hospital staff panic when they realised he had died unnoticed?" the son said.
'Sheer bedlam'
He said considering how busy the department was, it was easy to see how a quiet, very ill and very vulnerable patient might go overlooked.
"My father's partner said it was sheer bedlam that night - sure he could have just slipped away on his own," he said.
"But what we will never know is did he call out for help, did a nurse say she would return and didn't - we'll just never know."
SDLP MLA John Dallat is accompanying the family to the meeting with health trust staff.
"We will be asking some questions which will hopefully help the grieving process of those who are left distraught following his death," Mr Dallat said.
"What's equally important is we would like to meet the nursing staff at the Royal Victoria to impress upon them that the family has the utmost admiration for them.
"We attach no blame whatsoever for the events that happened."
'Huge question mark'
According to the family there remains a huge question mark over when exactly their father died and also what attempts were made to contact them.
His partner learned of his death when she rang the hospital the following morning to inquire of his condition.
Due to staff losing her telephone number, they had been unable to contact her immediately.
The PSNI were asked by the hospital to go to the woman's house to inform her that her partner had died.
"My father's partner had left telephone numbers with staff the previous day," the man's son said.
"That number was mislaid. But my father had hospital records - why weren't these referred to?
"I believe the delay bought them more time to consult senior officials about what had happened - it just gets worse."
"Also first we were told he died around 0600 GMT then that changed to 0500 GMT. That's not good enough."
The death put the local A&E service firmly under the media spotlight for a fortnight.
Health Minister Edwin Poots responded by announcing an action plan and by announcing that heads would roll in the health service unless there were improvements in waiting time targets.
The Belfast Health and Social Health Care trust has said it is carrying out a full investigation.
The death also triggered a massive public response.
'Fundamental reform'
Health unions, including the Royal College of Nursing, said the death highlighted the pressures that staff are under.
Director of the Royal College of Nursing NI Janice Smyth said fundamental reform of the health system in Northern Ireland was needed.
She said too many people were turning up in hospitals because not enough services were available in the community.
She added that nursing staff's professional judgement was being compromised because of the volume of work they were being expected to get through.
Just days after the death, the chief executive of the Health and Social Care Board, John Compton, announced new plans to police the movement of patients more closely.
He said this was not as a result of this latest death, but due to unmet targets.
The Belfast Health and Social Health Care Trust said it was carrying out a full investigation.