Sammy Wilson defends new 'Tesco tax'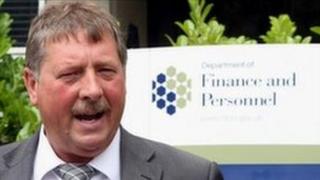 Finance Minister Sammy Wilson has refuted claims a controversial levy on large stores in NI will cost jobs.
The scheme - known as the "Tesco tax" - sees a re-evaluation of rates on commercial premises with a rateable value of more than £500,000.
It will affect 76 stores in Northern Ireland and it could cost big shops an average of £66,000 a year.
Larger retailers said it could cost jobs, but Mr Wilson said that would not be the case.
"I'm fairly confident if there are changes in employment, it will not be due to the levy.
"Though of course, there's always other factors which will influence how many people (they) do employ," he said on Monday.
He pointed out that Waitrose is seeking to open 20 stores in Northern Ireland and he claimed the levy would not have an impact on their investment decisions.
The proceeds from the tax will be used by the government to reduce rates for smaller businesses.
Mr Wilson said smaller stores would get the rebate automatically.
The Northern Ireland Retail Consortium, which represents large retailers, has said the levy is unfair and poses a risk to future investment.
Ikea has claimed it could be putting hundreds of jobs at risk.
In a statement, Tesco said: "At Tesco we recognise the desire to support small business in Northern Ireland.
"We will do our best to ensure that higher business levies will not affect job creation and investment in this market, whilst continuing to offer the best possible value for our customers."