95 Northern Ireland hospital consultant posts unfilled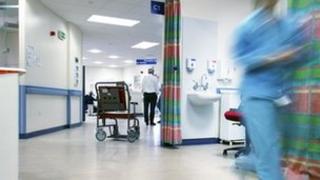 Up to 95 consultant posts are unfilled in hospitals across Northern Ireland, including 20 at the Royal Victoria in Belfast.
A number of the positions are in accident and emergency departments.
The information was obtained by the SDLP following growing concern over waiting lists at Antrim Area Hospital.
The Department of Health said health trusts were actively trying to fill the vacancies.
According to managers in the health service, part of the ongoing crisis in accident and emergency care is due to the lack of consultants willing to work in this highly pressurised area.
In Antrim, three of the six vacancies are in the A&E department.
The SDLP's assembly representative for the area, Patsy McGlone, said it was about trusts trying to save money.
"What I've been told is - and well-informed sources have told me - that many of the trusts in a cost-cutting exercise just simply aren't filling these positions.
"There's clearly a management issue here. The ostrich, with its head in the sand, doesn't work," he said.
However, the chief executive of the Northern Health Trust, Sean Donaghy, rejected suggestions that vacancies were not being filled to save money.
"We are not holding posts in order to save funds," he said.
"Our drive has been to increase the medical staff complement. There are no areas where vacancies have been held in order to save funds.
Mr Donaghy said that the Northern Trust was currently advertising to attract interest locally and nationally. He said three posts were available at Antrim Area Hospital, two of which had been created in A&E.
"There is a national shortage of trained doctors to work in A&E as a whole. The staff are not available to be able to take up the posts," he said.
Of the 95 unfilled consultant vacancies across Northern Ireland, 20 posts are at the Royal Victoria Hospital, with six at its children's hospital.
At Craigavon Area Hospital there are 12 unfilled posts; 10 at the Ulster Hospital; 10 in Altnagelvin, seven in Daisy Hill in Newry and three at the Erne in Enniskillen.
While the Department of Health was unable to provide a breakdown for each speciality, it is understood many of the posts are in A&E.
In a statement, the department said: "Trusts are actively trying to fill these vacancies but it is recognised that there are specialties in which employers have difficulty in attracting suitable applicants.
"This is reflective of the position nationally and is not just a problem particular to Northern Ireland."