Hundreds watch Titanic film beside dock in Belfast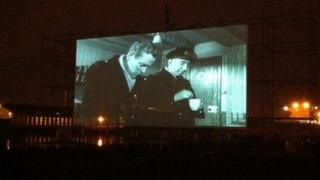 More than 500 people have turned out for a special outdoor screening of the classic Titanic film, A Night to Remember.
The event, organised by Belfast Film Festival, was held in the Titanic Quarter, just yards from the dry dock where the iconic ship was constructed.
First Minister Peter Robinson and Deputy First Minister Martin McGuinness were there to watch the 1958 film.
It was produced by Belfast man William MacQuitty.
It recounts the final night of RMS Titanic on its maiden voyage before its tragic end as seen through the eyes of Titanic's second officer Charles Lightholler.
The 1958 docudrama film is an adaptation of Walter Lord's book and won a Golden Globe in 1959 for Best English Language Film.
Fermanagh actor Ciaran McMenamin was also at the screening.
He is in a new television film called 'Saving the Titanic' which tells the story of engineers on the doomed ship as they battled to keep it afloat.
The film is having its UK premiere at the Titanic outdoor cinema on Tuesday night.