Famous faces provide window of opportunity for Toome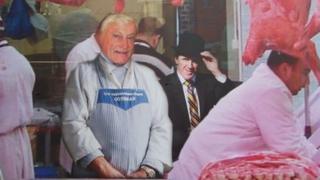 Residents in the County Antrim village of Toome have been spotting a few famous faces down at their local shops.
Peering out of the window of the butcher's, for example, you will find champion jockey Tony McCoy alongside Ireland rugby international Willie John McBride.
But they have not taken up part-time jobs behind the meat counter. They are among a number of sports stars and well-known current and former residents of the village who have given their support to a regeneration project.
Their images have been used in a series of murals created in an attempt to brighten up a block of derelict buildings in the main street.
Motorbike racers Michael, John and Eugene Laverty have taken up residence in a tea shop in another mural.
The late actor, Richard Todd, who starred in the WW2 film, The Dam Busters, is also featured in the pictures, as is local author Deirdre Madden.
The project is the work of a cross-community group called Toome Industrial Development Amenities & Leisure (TIDAL).
The group has been awarded just over £55,000 in funding to carry out improvements to the village, which will include enhancing the streetscape and creating a community garden for local people.
The Village Renewal project has been co-funded by the Northern Ireland Rural Development Programme and the Northern Ireland Housing Executive.