Woman sees daughter and husband shot outside house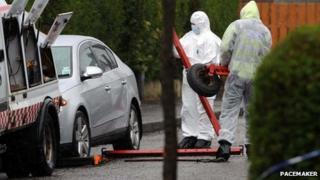 A woman whose husband and daughter were critically injured in a gun attack in north Belfast saw the gunmen make their getaway, the police have said.
The 47-year-old man and his 18-year-old daughter were shot at Evelyn Gardens, off the Cavehill Road, after 08:30 BST on Tuesday.
The teenager, a student, has stomach and hand injuries. Her father has life-threatening chest injuries. Detective Chief Inspector Karen Baxter said both were "extremely lucky to be alive".
The police officer said the man had been about to take his daughter to school when a masked gunman fired shots into the vehicle.
His wife came out of the house to see a small red van driving off.
Det Chief Insp Baxter told a news conference two men were involved in the attack.
However, she said it was "much too early" to establish a motive.
"Both of them are very lucky to be alive," she added.
Police are looking into a possible link with a van found in the Oldpark area.
The vehicle was found on fire at Ballymoney Street in the north of the city just before 09:00 BST.
The police have appealed for witnesses to contact them.
They especially want to hear from the occupants of the red vehicle which was seen driving away from the area around the time of the shooting.
SDLP councillor Nichola Mallon condemned the shooting.
She said: "This shooting is a deeply worrying event in any case, but it is especially heinous given that it occurred at 8:30, when people are travelling to school and work."
Alliance councillor Billy Webb described it as a "vicious and callous attack on two people in a residential area".
Evelyn Gardens, Salisbury Avenue and Hughenden Avenue have been closed.