Belfast visitors' centre to move to another location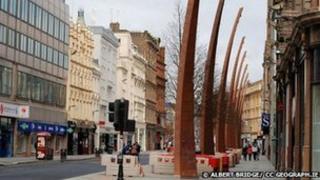 Belfast's main tourist office is being moved to another location at a cost of approximately £1.62m.
The Belfast Welcome Centre, run by Belfast City Council, currently occupies the first floor of a building in Donegall Place.
The council has approved the move to a new ground floor location at a building in Donegall Square which, previously housed a branch of the Northern Bank.
It is understood the new building will require a refit.
The council said a ground floor site was more appropriate for a tourist centre and is hoping the Northern Ireland Tourist Board will meet half the cost of the move.