Priest's father caught up in nursing home flu outbreak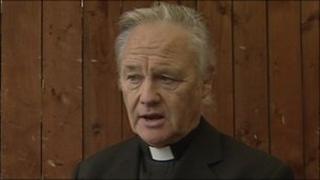 A Londonderry priest has confirmed that his father is being treated for flu-like symptoms at the Donegal nursing home where six residents have died.
Fr Paddy O'Kane said his 93-year-old father is one of the 11 residents receiving treatment at Nazareth House in Fahan.
The residents have died from flu at the nursing home over the past two weeks.
Fr O'Kane said he had visited his father at the home and was satisfied that he was receiving "excellent care".
Speaking on BBC Radio Ulster's Evening Extra programme, Fr O'Kane said he first became aware of the fatal outbreak through a news report.
He said it had been "alarming" but added he was not going to make an issue of the fact that he had found out through the media rather then being contacted personally.
Fr O'Kane said he understood that the staff's first priority was towards the patients and he added that they had reassured him about the state of his father's health.
Mr O'Kane Snr has been a resident of Nazareth House for the past five years and his son said it had met the standards required by the Republic's Health and Safety Executive (HSE).
"I have never heard of anyone complaining about the care, nor have we any cause for concern about how my father is being treated," Fr O'Kane said.
A spokesperson for Nazareth House said they did not comment on individual cases but added that the nursing home was "currently in the process of alerting the families of all those who are currently undergoing treatment to keep them fully informed of the ongoing situation".