Administrators appointed to Houston Fashions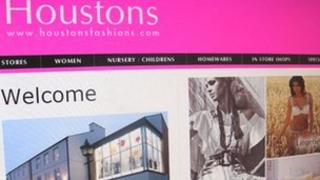 Administrators have been appointed to a Northern Ireland fashion retail chain which employs 68 people.
Houston Fashions was established more than 50 years ago as an independent clothing retailer.
It operates four stores in Ballymena, Armagh, Enniskillen and Lurgan, and a further two outlets in the Republic of Ireland.
The Ballymena store is to close immediately, resulting in 10 redundancies.
PwC were appointed as joint admininstrators on Wednesday, at the request of the directors of Houston Fashions.
The company is also active in the commercial and residential property sector.
In addition to Houston Fashions, the Houston companies collectively employ over 125 people with a further 125 in concession departments.
Company Director John Houston said they were "disappointed" but added that the last few years had been "a challenging time for retail, residential and commercial property in Ireland".
Mr Houston said: "By working closely with the administrators and lenders during this group restructuring, we are pleased that the overwhelming majority of the 250 jobs will be saved."
Joint administrator Stephen Cave said the company's financial performance had deteriorated due to a "combination of reduced retail demand and pressures in the commercial and residential property sector".
"Following discussions with the company's lender and key stakeholders, we have agreed a strategy that will permit most of the stores to continue trading.
"This will safeguard the majority of the company's jobs and minimise disruption to suppliers and concession operators," Mr Cave said.