Narrow Water Castle goes on Royal Mail stamp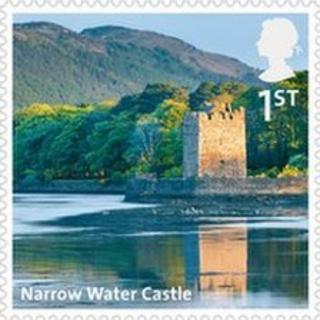 Narrow Water Castle in County Down has been selected to become part of a unique Royal Mail stamp collection.
It is one of the iconic buildings from across the UK which will represent the letters M-Z in the alphabet.
The castle, just outside Warrenpoint, will represent the letter N and is only the second site in Northern Ireland to be chosen for the stamp collection.
Philip Parker from Royal Mail said the castle was one of the "finest examples of 16th century buildings in Ireland".
He said Royal Mail had spoken to travel writers, consultants, and staff at their Belfast office when drawing up the list of possible locations over an 18 month period.
Mr Parker said it was hoped the stamp would promote tourism and give local people "a sense of ownership".
The Carrick-a-Rede rope bridge on the north Antrim coast was added to the collection last October and is the only other location in Northern Ireland to be featured on the A-Z stamps.
There has been a keep on the Narrow Water site, on the shoreline of Carlingford Lough, since 1212.
The original structure was built by Hugh de Lacy, first Earl of Ulster, to prevent attacks on Newry as part of the area's Norman fortifications.
It was destroyed in the 1641 Rebellion.
The current castle was built in the 1560s and was given into state care in 1956.
It is now maintained by the Northern Ireland Environment Agency (NIEA).
NIEA archaeologist, Ken Neill, said the buiilding was "strategically very important" during the reign of Elizabeth I and the location was chosen because of its commanding view over the lough.
"Newry was really at the hub of the battle between Elizabeth's forces and Hugh O'Neill," he said.
The defeat of the Irish rebel chieftain, Hugh O'Neill, led to the Plantation of Ulster.
'IRA bombs'
Environment Minister Alex Attwood said built heritage was one of the "key jewels" in the local tourism industry and the move was in "recognition of one of those jewels".
"Being reproduced on a stamp raises its profile and will lead to more tourists visiting this splendid coastal resort," he added.
It was also the area where the British Army suffered its greatest single casualty toll in the Troubles.
Eighteen soldiers were killed when two IRA bombs exploded close to the castle in 1979.
Mr Attwood said: "In welcoming this announcement I and many others will also recall and remember the terrible events of the past close to this site."
The castle will be closed to the public this summer while conservation works are carried out.