Commission to discuss flags issue at Stormont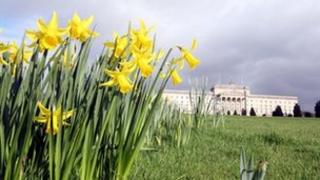 Stormont MLAs are set to discuss whether the Irish flag should be flown at Stormont.
The Assembly Commission, which is responsible for Parliament Buildings, has agreed to discuss the flags policy, according to the Belfast Telegraph.
It is understood this follows an internal audit which refers generally to the flags issue.
The audit is part of the commission's efforts to deliver a good relations policy.
Following the audit, nationalists have presssed the commission to discuss the flags issue, including the flying of the Irish tricolour.
The discussion is expected to happen in the next few weeks.
An assembly spokesperson said the flying of the tricolour was not specifically on the agenda but good relations issues were.
She said "members will be free to raise any related issues".
Sinn Fein's John O'Dowd had said it was time for a "cool and mature" debate.
But the DUP's Peter Weir said that nationalists who believed the tricolour would fly at Stormont were "deluding themselves".
"We are actually part of the United Kingdom, that may have escaped a few people's notice," Mr Weir told BBC Radio Ulster.
"It is not going to help good relations to stir up the issue of the flag and the reality is Stormont needs to reflect the fact that we are part of the United Kingdom and the only flag that will be flying will be the Union Jack".
The DUP MLA said that nationalists would not be able to secure unionist support on the issue.
The Sinn Fein Education Minister, John O'Dowd, called for any discussions on the flying of flags to take place in a "cool, reflective, mature manner".
He said an independent report which was published a few years ago had concluded that "Stormont and the assembly grounds did not reflect the nationalist and republican background of many, many people who are either elected representatives in it, or who visit the Stormont estate".
The Assembly Commission is comprised of one MLA from each of the five biggest political parties and is chaired by the Assembly Speaker Willie Hay.