Woman dies after fire at Owenvale Court in Belfast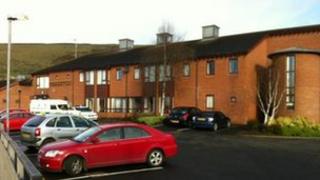 An 81-year-old woman critically injured in a fire at a care home in west Belfast has died in hospital.
Three other people, including two members of staff, were treated for the effects of breathing in smoke at Owenvale Court on the Springvale Road.
The fire happened just after 23:00 BST on Tuesday. Twenty residents were led to safety in a joint effort by care home and fire service staff.
Police have said the fire is believed to have been accidental.
Fire service spokesman Karl Dorris said the fire was in a bathroom.
"None of the residents had to leave the property. We led them from their rooms down to their day room and used it as a safe point of refuge," he said.
"Before we left last night they were allowed back into their own rooms once the smoke had cleared."
In a statement, Helm Housing, which operates the fold, said the alarm was raised just after 23:00 BST and staff had responded promptly.
"A female resident was subsequently transferred by ambulance to hospital, but has unfortunately died as a result of her very serious injuries," Greg Lomax, interim chief executive, said.
"All staff involved would like to extend their deepest sympathy to the family.
"This was a tragic loss of life and she will be sadly missed by all of Owenvale Court's staff and residents.
"Our thoughts are with the family at this extremely difficult time."
Meanwhile, two women were taken to hospital and treated for the effects of breathing in smoke after a fire at a house in west Belfast early on Wednesday morning.
It happened in Lisvarna Place in the lower Falls area at about 03:30 BST.