The woman who won the heart of Titanic's Thomas Andrews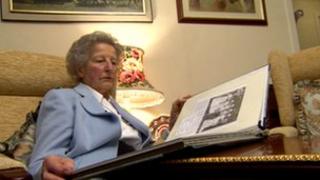 Thomas Andrews has been immortalised as the hero of the Titanic story.
The County Down naval architect helped design the fated ship and went down with her when disaster struck.
But his actions in helping others on the night have become the stuff of legend.
Once the iceberg struck, it was Andrews who calculated how long it would take for Titanic to sink.
It is said he was instrumental in helping women and children get in the lifeboats as the icy waters filled the ship.
Survivors said he met his fate with the utmost bravery as the horror unfolded, saving other men's wives and children, while knowing he would never see his own wife and child again.
Thomas Andrews had married Helen Reilly Barbour almost four years earlier, and they had a two-year-old daughter.
He had set off on Titanic's maiden voyage along with a group of skilled men called "the guarantee group".
They were brought on board to look for any snags to make sure the sailing was up to the standards expected. All lost their lives.
Helen was left heartbroken at the loss of her brilliant husband.
'Devastated'
She would eventually remarry and have four more children, but she always kept letters, photographs and mementos of her courtship and love for her first husband.
This legacy has been kept alive by her daughter Vera Morrison, who has been speaking exclusively to BBC Newsline.
"She never really spoke about it and she never mentioned the tragedy," Vera said.
"But on one occasion I was talking to her and she said that she hoped that the wreck would be left as a memorial to all the people who died on the ship.
"I think she was totally devastated - and she was so very fond of Tommy's parents.
"She described them as being her second mother and her second father. She was just trying to console them when she herself must have been devastated."
One hundred years on, Vera has revealed wonderful memories and stories about the woman who captured not only the heart of Thomas Andrews, but also of her father, Henry Harland, who her mother married five years after Thomas' death.
Vera said both men would have known each other well through the shipyard.
Both were privileged apprentices - which meant they paid to learn every job and skill needed to build ships.
And during their apprenticeship, both men would have known Helen, who was also called Nellie.
All three of them came from some of the most prosperous families in Northern Ireland at that time.
Vera said she believed her mother truly loved Thomas and that he was always the favourite.
"She was obviously very, very fond of him," she added.
"I think it was a true love match. He must have been brilliant.
"But the other thing that comes out so often is his real affection for the workers.
Proposal
"He told Nellie when they were driving out of the shipyard one day together that all the workers who were coming out were his mates. He was so very popular and dearly loved I think by so many people."
Vera also has the engagement ring that Thomas gave to her mother - a square cut sapphire surrounded by small diamonds, which to her is priceless in sentimental value.
Her mother wore it after his death.
But apparently Thomas' proposal to Helen didn't quite go as he had planned.
Vera has a letter from Thomas, dated Saturday 25 March 1906, in which he apologised to Helen for shocking her by asking her to marry him the night before.
However, she eventually got over her shock, and she and Thomas were married in Lambeg Parish church, outside Lisburn, on 23 June 1908.
After a honeymoon trip to Switzerland, the couple took up residence at "Dunallan," at 12 Windsor Avenue in Belfast, which is now home to the Irish Football Association.
It was where they had their daughter, who was nicknamed Elba.
"I've often been asked why wasn't my mother on the Titanic with her husband. I never knew if it was because my mother was ill or Elba was ill," Vera said.
Five years after the tragedy, Nellie married her old suitor Henry Harland.
She went on to have four more children, including Vera who was her youngest child.
Now we can reveal for the first time the personal and private life of the public hero, who sacrificed his own life to save other men's wives and children.
Titanic's hero was a gentleman - but he was also a romantic and loving husband and father.
You can see more of this story and watch the interview with Vera Morrison on BBC Newsline at 18:30 BST on Thursday.
An extended version of the interview will be broadcast in a special commemorative programme on BBC Two NI at 06:20 BST on Sunday 15 April.