Police in Derry warn teenagers over organised fights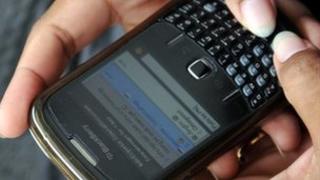 Police have warned teenagers organising fights in Londonderry that they risk destroying lives.
At the weekend, a 28-year-old man - an innocent passerby - was beaten unconscious after teenagers had gathered at Corrody Road.
A number of cars were also damaged in the area.
Police believe the teenagers - who were male and female - had arranged a fight via BBM (BlackBerry Messenger) on mobile phones.
Inspector Bill Mulligan said it should not be considered to be "some sort of mischief or just anti-social behaviour".
"We are aware that it has happened once or twice both here and in other parts of the town," he said.
"What we're talking about here - people being assaulted and property being damaged - this is criminal activity and we'll be dealing very robustly with the people involved in it.
"The other thing these people need to be aware of is that it may seem a bit of fun arranging a fight, but it only takes one punch and there's the possibility of lives being destroyed and families wrecked."
'Ran amok'
Community worker Geraldine O'Donnell said the first indication of trouble on Good Friday was when people saw teenagers vandalising cars.
"These young people just ran amok through the estate, damaging cars and fighting with each other," she said.
Ms O'Donnell said it was not the first time such an incident had happened.
"About eight weeks ago we prevented a similar incident taking place. This one caught us completely unawares," she said.
"I would call on parents to be aware of where their children are."
The community worker said the organised fights were not sectarian and did not involve rival factions.
"These young people that are coming are from all parts of the town," she said.
"It also causes a lot of anxiety and fear among the most vulnerable in the community."