Rise in whooping cough cases in Northern Ireland reported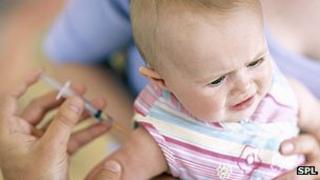 There has been a rise in the number of whooping cough cases reported in Northern Ireland.
The Public Health Agency (PHA) said that by the end of March of this year there were 27 confirmed cases.
This compares with 13 confirmed cases in the whole of last year.
The PHA is reminding parents of the importance of their children completing the childhood immunisation programme to help prevent serious illness.
It added that "quite a few of the cases are in children too young to be vaccinated".
Dr Richard Smithson, Consultant in Health Protection, PHA, said Northern Ireland had uptake rates of more than 98% for the primary vaccines by two years of age, but urged the small remainder of parents whose children were not fully vaccinated to ensure "they get all the recommended vaccines as soon as possible".
"Vaccination is the most important control measure in preventing this disease and children are offered the whooping cough vaccine at two, three and four months of age as part of the routine childhood vaccination programme," he said.
"The vaccine for whooping cough is included in a jab that also protects against diphtheria, polio, Haemophilus influenza type B - a cause of meningitis - and tetanus.
"Children should receive a booster at around three and a half to four years of age, before they start school.
"It is important that children receive all these doses so that they can build up and keep high levels of immunity to the disease."
Whooping cough, also known as pertussis, can be a serious illness, especially in the very young.
The main symptoms are severe coughing fits which, in babies and children, are accompanied by the characteristic "whoop" sound as the child gasps for breath after coughing.