Belfast hospital patient gets suspended jail term after assault on nurse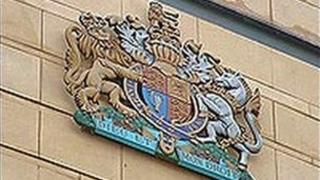 A hospital patient who head-butted a nurse during attempts to administer first aid has been given a three months jail sentence suspended for two years.
Robert Cullen, 45, of Antrim Road in Belfast, also attacked three police officers as they tried to bring him back to the A&E department of the Royal Victoria Hospital in the city.
Cullen faced charges of common assault, disorderly behaviour, and three counts of assault on police.
The incident happened on 17 March.
Belfast Magistrates' Court was told Cullen became abusive and aggressive to medical staff after being brought to the hospital bleeding heavily from a head wound.
A prosecution lawyer said Cullen "squared up to a nurse" with his fists clenched as she tried to administer first aid.
Cullen then launched a head-butt attack before leaving the department.
Later he attacked police officers, attempting to "punch and butt them". One of the officers was kneed in the groin.
Following his arrest, Cullen said he could not remember the incident but apologised for what had happened.
Cullen was eventually treated for his injuries from an earlier fall, receiving nine staples, the court heard.
His solicitor disclosed that he was the sole carer for his sister, who suffers from a psychiatric condition.
Cullen was said to have abused alcohol as a coping mechanism for his own depression.
"I'm not here defending the indefensible," Cullen's lawyer said.
"I'm not trying to negate what happened, but we all act differently with head injuries."
The judge said that the courts have a zero tolerance attitude to attacks on emergency staff.
He left the three months jail term "hanging over Cullen's head" by suspending it for two years due to his role as a carer.