Family of Titanic's owner, J Bruce Ismay, make plea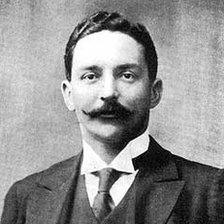 James Cameron's film Titanic introduced a new generation to the sequence of events leading up to the sinking of the Titanic and brought to life the key people on board and the roles they might have played once it became clear the ship was doomed.
The film portrayed the Titanic's owner Joseph Bruce Ismay as a coward for abandoning the ship while others perished.
Now descendants of Ismay, who have never been interviewed before, have spoken out to try to clear his name, 100 years after the disaster.
John Cheape and his son Malcolm live in Scotland and have given interviews exclusively to BBC Newsline.
They are the son and grandson of Ismay's eldest daughter Margaret.
Malcolm said: "I think that he was treated really badly by the American press - and probably not quite so badly by the British press but his story was never really told - there were a lot of lies in the American press about him escaping on the first life boat and dressing up as a woman and things like that which must have deeply hurt him "
Ismay's actions on the sinking Titanic in 1912 became cause for endless speculation, but his family say there is no evidence to contradict his testimony given at the subsequent inquiries that he only entered one of the last lifeboats after helping load other boats and checking that there were no more women or children nearby.
As well as being branded a coward, Ismay faced tough questions about the speed the ship was travelling, the shortage of lifeboats and about the avoidance of iceberg warnings.
Ismay was eventually cleared of any personal wrongdoing by both inquiries.
Malcolm said that despite this, his great-grandfather never recovered from the public reaction to the disaster.
"I suspect he suffered from post traumatic stress when he arrived on the rescue ships and was certainly given morphine or some sort of medicine - I think that the fact that he was getting letters from strangers asking about what he knew about their relatives must have been very difficult in those first hours or days after the disaster and longer term, I think he must have looked back on it and wished he'd never been there."
Malcolm Cheape is in possession of thousands of documents and letters which show a very different side to J Bruce Ismay than had been portrayed in the press, including a telegram he received following the British inquiry which cleared him of blame.
There is also a letter of thanks from the new husband of an Australian stewardess called Evelyn Marsden.
Ismay had helped load her into a lifeboat saying "you are all women now" when she thought as a member of staff she should remain on the stricken vessel.
Malcolm's father John was only a small child when his grandfather J Bruce Ismay died, but he was extremely close to his grandmother Ismay's wife, Florence.
However, a culture of silence prevailed through the generations of the family - speaking about the Titanic was always out of bounds.
John said: "My grandmother, after the disaster, would hardly speak about it and my mother didn't say a great deal either - what she did say was that it absolutely shattered his life.
"I think the whole family suffered without any doubt."
John still finds it difficult to hear people speak ill of his grandfather and asks, while the disaster was so terribly tragic, could his grandfather really have done anything to prevent it?
"I don't think there was anything he could have done - Captain Smith was the captain of the ship - he had no say in the running of the ship."
Malcolm Cheape said that Ismay helped load the lifeboats and helped women into them for at least an hour before he himself got in the last lifeboat.
He said Ismay's decision to go into the lifeboat was probably on the "spur of the moment".
"I suspect he was asking himself the question if the opportunity arose would he take it, but once he'd taken the step his life very much changed and he had to live with that decision and I think had he not taken that decision he would have died a hero," he added.
J Bruce Ismay spent much of the rest of his life living out of the public eye in Costello in the west of Ireland before returning to London where he died in 1937.
However, his family want to remind people that without J Bruce Ismay and his father Thomas before him, tens of thousands of ship building jobs with the White Star Line would never have existed.
"The Titanic would have never been built without Bruce Ismay, almost certainly. He wasn't the man that he was portrayed - and I think that he deserves some justice now 100 years after the accident," Malcolm added.
You can hear more on this story on BBC Newsline at 18:30 BST on BBC One Northern Ireland on Friday and in an extended report during a special Titanic commemorative programme on BBC Two Northern Ireland starting at 06:20 BST on Sunday 15 April.
Related Internet Links
The BBC is not responsible for the content of external sites.