China committed to Northern Ireland says Liu Yandong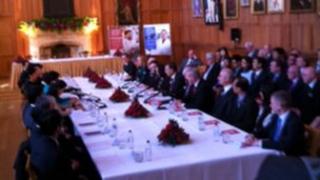 A senior Chinese politician says her country is committed to Northern Ireland.
Liu Yandong said that was why she was making Northern Ireland the first stop on her state visit to the UK.
She belongs to the country's 22-member ruling politburo and is China's most senior female politician.
Ms Liu was at the University of Ulster where she officially opened its Confucius Institute.
She was welcomed by the first and deputy first ministers Peter Robinson and Martin McGuinness.
Mr Robinson said if Northern Ireland wanted to reach out to the rest of the world, it would have to have a positive relationship with one of the world's leading economic powerhouses.
Meanwhile, Queen's University in Belfast has announced it is to establish a college in China in partnership with the China Medical University.
Queen's President Sir Peter Gregson said it was an exciting opportunity.
"Today's agreements with Peking University and Chinese Scholarship Council and the announcement of our intention to establish the China Queen's College are a sign of the powerful relationships that Queen's University has built with its Chinese partners and a symbol of the good fortune for Northern Ireland through its strengthened links with an internationally recognised super power," he said.
The partnership will see some 1,000 Chinese students studying for Queen's University Belfast degrees in pharmaceutical science in the new college.