MTV returns to Belfast for Titanic concert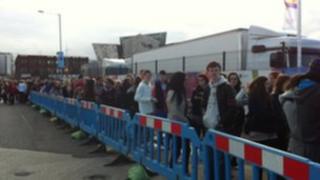 MTV has returned to Northern Ireland on Friday night to celebrate the opening of the Titanic Belfast building.
Following the success of the MTV Europe Music Awards in November the channel is staging a free open air concert.
It is set against the backdrop of the new Titanic building.
Artists performing at the event include Olly Murs - with a full nine-piece band, Pixie Lott, Katy B, Rizzle Kicks and Sean Paul.
The MTV concert is just one event during a three-week festival marking the centenary of the launch and sinking of the Titanic.
A Titanic commemoration concert will be held at the Waterfront Hall in Belfast on Saturday and will be screened live into the grounds of City Hall.
The festival comes to an end on 22 April.