Memorial to Real IRA murder victim Kieran Doherty vandalised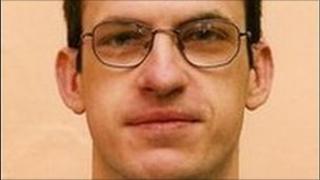 The family of a Londonderry man shot dead by the Real IRA have said a memorial to him has been vandalised twice in the past 10 days.
The body of 31-year-old Kieran Doherty was found naked and bound near the Irish border in February 2010.
Mr Doherty's family erected a small monument on the spot where he was found on the Braehead Road.
His uncle Vinnie Coyle has condemned those behind the attacks on it and appealed to them to stop.
"Ten days ago this was desecrated, destroyed and some family members got together and replaced it so the wider family wouldn't be aware of it, because it has caused such pain," he said.
"Since that, in the last few days it has been smashed up again.
"We have replaced it again and we have put it there in place and the family would appeal to whoever is behind these attacks on this little memorial to stop doing this."