Survey finds Irish Catholics 'want married priests'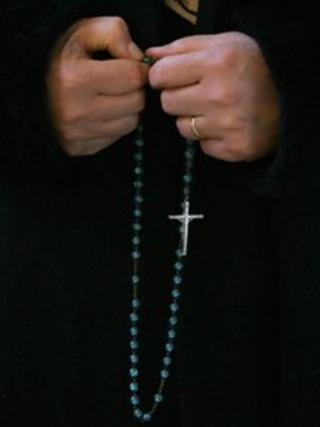 Almost 90% of Irish Catholics would support the introducion of married priests, according to a survey by the Association of Catholic Priests (ACP).
The survey also found that 77% of Irish Catholics want women to be ordained.
The ACP commissioned the survey which gathered opinions from 1,005 Catholics on both sides of the Irish border.
Fr Brendan Hoban from the ACP said the statistics showed a disconnect between official Church teachings and what ordinary Catholics believe.
He said some of the findings of the survey were "quite startling" but backed up strong anedotal evidence that Irish Catholics were "very anxious for change".
"We had the feeling all along that the way lay Catholics were being presented - as a very traditional, a very conservative group of people who weren't open to change and were happy with the way things were and - we felt anedotally from our own experience in parishes around the country that that wasn't the case".
"The perception that Rome has of the Church in Ireland is very different from the perception on the ground," Fr Hoban said.
He added that the ACP "didn't want to be in any way over-critical of Rome" but was very concerned about the falling numbers of Irish Catholics who were joining the priesthood.
The ACP is a liberal organisation which represents more than 850 of the 4,500 priests on the island of Ireland.
Last week, it was reported that the Vatican is investigating a leading member of the ACP, Father Tony Flannery, because of his liberal views on clerical celibacy, women priests and contraception.
It ordered Fr Flannery to stop writing articles for the Redemptorist Order magazine which he had been contributing to for 14 years.
Scandals
The ACP voiced its concern at the Vatican's move which it described as an "extremely ill-advised intervention in the present pastoral context in Ireland".
The Catholic Church in Ireland has been rocked by a number of high-profile clerical child sex abuse abuse cases in recent years.
The scandals were followed up by three damning government-backed inquiries into how the Church's hierarchy handled the abuse allegations.
The ACP survey was carried out by Amarach Research over a two-week period in February.
It also found that more 60% of Catholics disagreed with the statement "that any sexual expression of love between gay couples is immoral", while three-quarters of respondents did not see Catholic Church teachings on sexuality as relevant to them or to their family,
But 35% of those who took part in the survey said they attended Mass once a week - one of the highest rates in Europe.
Just over half of the respondents (51%) said they went to Mass once a month, while 5% said they never attended.