Northern Ireland nurses urged to report assaults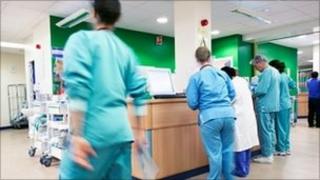 The Royal College of Nursing (RCN) has urged its members to report any cases of abuse by patients to the police and their employers.
The call comes after a man who headbutted a nurse at the A&E in Belfast's Royal Hospital was given a three-month suspended sentence.
He had also attacked three police officers during the incident.
Janice Smyth, director of the RCN in Northern Ireland, said nurses are often reluctant to report such cases.
"Our position is and has always been that each and every case, regardless of circumstances, should be referred to police and should be investigated," she said.
"It's not in the majority of nurses' make-up to want to refer the patients as it were to the police.
"Nurses do tend to try to justify or rationalise why a patient would act that way."
On Thursday, Robert Cullen, 45, of Antrim Road in north Belfast, was given a three-month jail sentence suspended for two years for attacking a nurse.
He also attacked three police officers as they tried to bring him back to the A&E department of the Royal Victoria Hospital in the city.
'Squared up'
A prosecution lawyer told the court that Cullen - who said he could not remember the incident - "squared up to a nurse" with his fists clenched as she tried to administer first aid.
He headbutted her before leaving the department.
His solicitor disclosed that he was the sole carer for his sister, who suffers from a psychiatric condition.
The judge who imposed the suspended sentence said that the courts have a zero tolerance attitude to attacks on emergency staff.
Responding to the sentence, Ms Smyth said: "Whilst on the surface we may appear disappointed with this, we're very pleased that in the first place it was referred to the police, they investigated it and it was brought before the courts because there are so few of these cases that are.
"From that respect we're pleased that it has at least got that length."