Police investigate Larne newspaper office blaze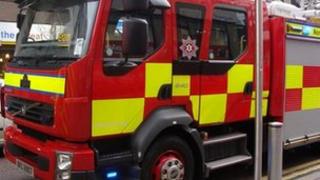 Police have appealed for information after the offices of a County Antrim newspaper were badly damaged in a fire.
The blaze in the Larne Times, in the town's Dunluce Street/Point Street area, broke out on the first floor at about 23:30 BST on Thursday.
The newspaper's Larne office contains advertising and editorial departments. Printing is carried out elsewhere.
Detectives want anyone who witnessed suspicious activity in the Point Street area on Thursday to contact them.
Fire crews from Larne and Whitehead stations help fight the blaze.
The Fire and Rescue Service's Paul Coyle said the fire was well-developed when crews arrived and took almost two hours to extinguish.
"There has been extensive fire damage sustained to part of the first floor of the building and there has also been some smoke and water damage throughout the remaining floors," he said.
"At the moment we are not able to determine the cause.
"We are in fact working with colleagues from the CSI (Crime Scene Investigators) and our own fire investigators to try to establish the cause."
The newspaper's editor Valerie Martin said it would be "business as usual" next week.