Mourne Mountain Rescue team at 50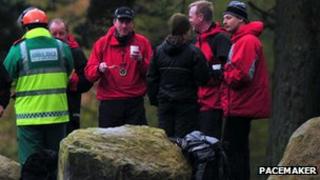 The Mourne Mountain Rescue team- hopefully you'll never need them, but they always seem to be there when you do.
They are a team of hardy volunteers who rescue people from the places other emergency services simply cannot reach.
This month marks the 50th anniversary for a team that has rescued over 5,000 people from locations all over Ireland.
Nestled at the foot of Northern Ireland's highest mountain, Slieve Donard, the team is made up of men and women from the Mourne area.
Co-ordinator Marty Mullen, 38, joined the team when he was 17-years-old. He said:
"There's teachers, we have a tree surgeon, a painter, a barrister. We've got a couple of civil servants, engineers and joiners. It's very diverse."
Don't be fooled by the day jobs though. This team provides a recognised emergency service and has a highly specialised set of skills.
Most of the team are actively involved in outdoor pursuits in their spare time and had been prior to joining the team.
They are also a highly dedicated bunch - on call every minute, of every day, all year round, in all conditions.
Mr Mullen recalls an operation in a 'totally surreal' situation on the Glenshane Pass a few years ago.
"Nobody was injured. Nobody was ill. But there were 120 cars stuck on the Glenshane Pass with around 300 people.
"The one memory that will always stick in my mind is there was an Ulster bus sitting there. There was a queue of people getting off it, just as they had got on at the Europa bus station in Belfast. One man in his suit and overcoat with his briefcase in hand was wading through 3ft of snow to make his way to us so we could take him out of there."
Most of the calls the team receive deal with 'lower limb injuries' as a result of people 'slipping, stumbling or falling'.
"Although the injuries are serious enough, it's the environment that makes it more serious. If you injure an ankle when you're on a footpath in the middle of the town centre, it's bad. If you injure it on the side of a mountain it can be slightly more serious," said Mr Mullen.
Making a difference
Dave Goddard, at 60-years of age, is the longest serving member of the emergency team.
He has worked on a range of rescue operations including violent gorse fires and helicopter crashes.
But there is one rescue that really sticks in his mind:
"An elderly man with Alzheimer's went missing during the cold snap a couple of years ago. It was -10°c. It was very cold.
"We worked through for 22 hours solid on that one. We found there was a hole in the search pattern. We thought an area had been searched but really it hadn't.
"People were giving up but Marty Mullen and myself went up with one of the dog handlers. Miraculously the man had survived the night.
"Making that difference, that's what makes it worthwhile."
Dave Goddard has dedicated half his life to helping other people. When asked when he is going to stop, he said:
"It's difficult to turn a blind eye to. You feel an obligation. I was saying one day 'we're just volunteers, we don't have to go' and my wife said 'but you always do.'"