Patient dies after listeria outbreak at Antrim and Causeway hospitals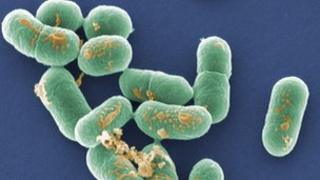 An elderly patient has died following the outbreak of listeria at Antrim and Causeway hospitals in Northern Ireland.
The patient who died at Antrim Area Hospital had contracted listeria which contributed to their death but was not the cause.
Two other cases of the blood infection have been confirmed at the Antrim area and Causeway hospitals.
The trust said both of those patients "are recovering well".
The most recent case was identified on Friday morning.
The trust said as the three cases had happened within a short period of time, it was declaring an outbreak.
It said it could not confirm if all three cases were of the same strain.
Earlier, Olive MacLeod, the trust's Director of Nursing said it had been monitoring the situation in the past few days and had declared an outbreak as a precautionary measure
The trust said listeria was an uncommon infection in a hospital setting.
It said it was usually food-borne, most often in ready-to-eat refrigerated and processed foods.
"We are working with the Public Health Agency and Environmental Health Officers in relevant councils to conduct a detailed investigation of potential sources," Ms MacLeod said.
"In the interim we have reviewed the cold food chain in the hospital and we are assured that our processes are robust and safe.
"We are also conducting a thorough review of the food received into the trust.
"This work is complex, requiring a multiagency approach and will take some time to complete.
"We are confident that the food in the hospitals is of the highest possible standard, both when delivered to patients or in our restaurants, however we ask that patients wash their hands before eating, eat food as soon as it arrives and dispose of any leftovers immediately."
The trust has asked that visitors not bring food into the hospital.